In this article we are going to show you the most pivotal pain points that no Influencer Marketing Campaign is immune. We've identified a series of so-called Opposite Pairs which are key to increase efficiency and manage such campaigns in the most straightforward way. 

The Main Stages of every valuable Influencer Marketing Campaign
If you have already run some Influencer Marketing Campaigns, you know the pain points involved in such campaigns.
First of all, you surely dealt with a variety of Influencers – according to the brand or company – but also Athletes, Musicians, Actors, Fan Ambassadors, Brand Ambassadors, and Partners.
Moreover, you also had to cope with the Brand Managers, Agencies, and other Content Contributors – e.g. Photographers or VJ's. There is something that is common to both groups: they all have a mobile device in their pocket!
The Opposite Pairs involved in an Influencer Marketing Strategy
So in light of this, you need to be aware about the Opposite Pairs that play a meaningful role in every Influencer Marketing campaign, whose balance is indispensable if you want to achieve the target goals and increase the strategy efficiency.
Let's see them in detail:
1. Influencer's Creativity VS Brand's Control 
According to our experience, the first Opposite Pair in our Influencer Marketing drawbacks list is the balance that need to be found in terms of Influencers' freedom of creativity.
In fact, the majority of misunderstandings arise from deciding which may be the right amount of freedom to give to your Influencers or Partners.
On the one hand, you risk missing the opportunity to let the Influencers express themselves and what their audience wants to see on their social media, making them losing in visibility and credibility.
On the other side, you risk promoting a content that doesn't fit your brand identity, putting your own customers' loyalty in a serious danger.
That's why you need to undertake clear negotiations about content with your Influencers: many brands have found the easiest solution is to co-create content with their influencers, so that the content remains on-brand, yet still feels authentic to the influencers' audience.
In order to do so, you need a straightforward and clear workflow to communicate, share tasks and comments, as well as approve your co-created content when needed.
The communication to the content creation has to be attached to the scheduled post, in order to avoid misunderstandings during under pressure situations, in particular when it comes to manage the distribution to several influencers/partners, working with a high number of content contributors.
It would allow you to find a balance between giving influencers creative freedom and maintaining control of content and messages individually for each scenario.
2. Planned Posts VS Spontaneous Posting
The balance between planning and improvising needs to be carefully addressed.
As you can presume, the second option may represent a sort of concern for the brand/agency's community manager: this calls back the previous issue about brand identity and content consistency.
The options are mainly two, and are quite opposite each other:
The first is to plan your storylines for your multiple social media and influencers/partners having plenty of approval control before they go live.
The second is to trust your partners completely, by giving them the freedom to act without any supervision. This last option is not so foolish, but it's better to act so only if you already have a long-time and trust-worth relationship with your influencers, whom perfectly knows your preferences and brand identity.
Therefore, to manage all the situations between this opposite pair, the best way is to use a tool that allows you to flexibility schedule critical posts in advance, while letting you have more spontaneous content contributions that may be collaborative managed with comments and chats.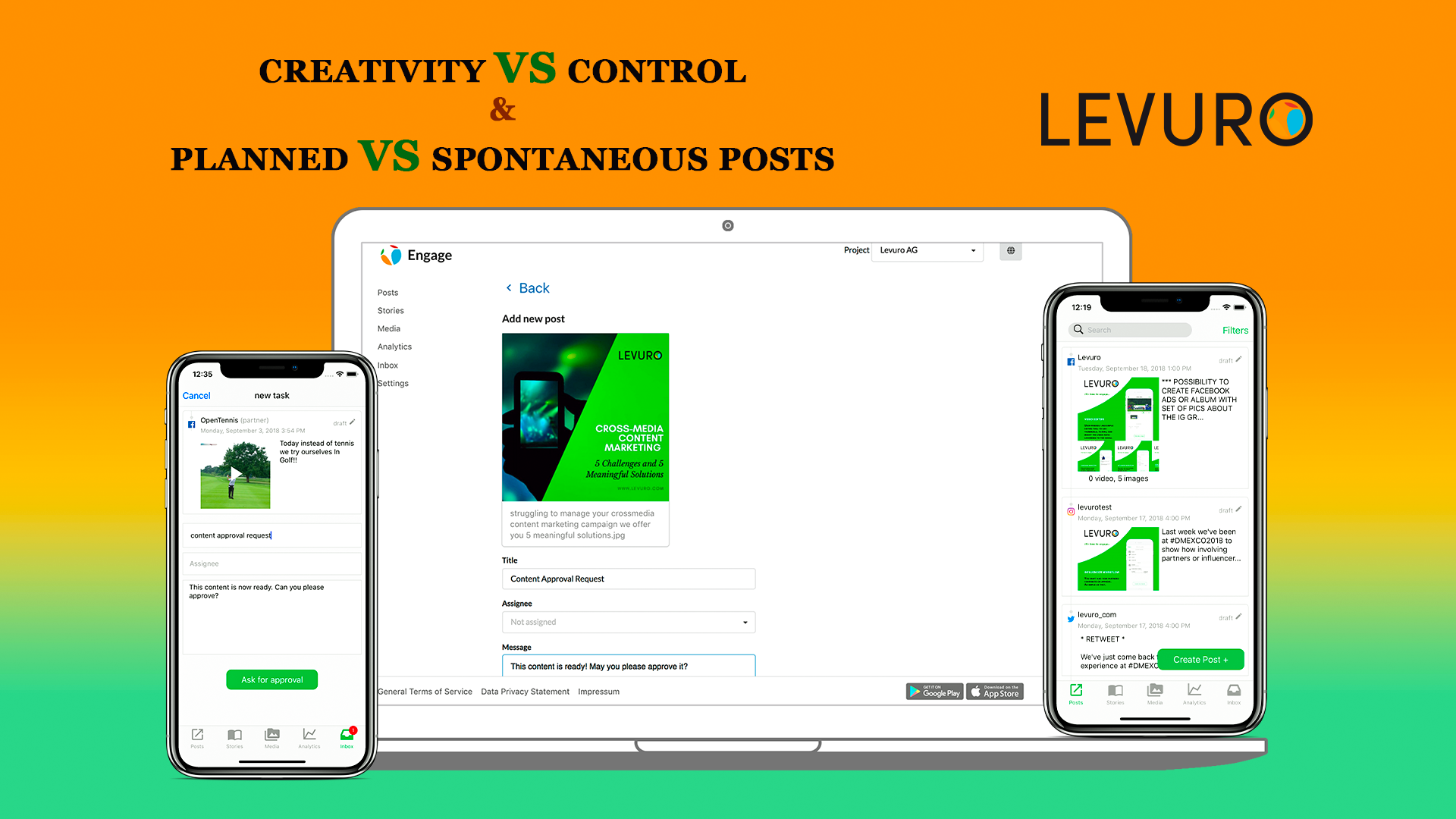 3. Story-focused and Close to Fan Video Editing VS High-quality Video with several Production Teams
A vital element of any influencer marketing campaign is the type of content that is created and shared. To be successful, the content needs to resonate with the audience.
Influencers are often involved in engaging video marketing campaigns that generally cause another opposite pair: staying mobile-friendly and cost-effective, or going high-quality and costly?
You may find yourself in front of two opposite scenarios:
You have the opportunity to use a mobile-friendly and easy video managing and editing tool where communicate and plan any step of your video campaign with your influencers. In this case, you'd be able to create a story-focused, straightforward, and cost-effective video strategy. Just think about how vertical video production is taking place between Influencers, e.g. on Instagram Story, IGTV, and SnapChat. This kind of content can become easily viral, it's cost-effective and simple to be produced through your partners' mobiles, as immediate and genuine content.
On the other side, you may decide to produce a high-quality video with several production teams, with its quality standards and time needs involved.
In many cases you need to handle a mixture of this two cases. It's important that your newest technology supports the optimization for each social media channel and the team can access all video assets fast on all devices.
Your team should be supported in the spontaneity that social media can allow you, in order to achieve engaging videos through just some simple editing steps (cropping, thumbnails, filters, cutting, logos, stickers), by using simply a mobile device and an easy social media editing tool.
4. Efficient Communication Workflow VS Hard-to-reach Collaboration 
Transparency must be your priority: as a result of an unregulated industry where millions of influencers run their own business and brand, transparency has to be always a priority, on both sides of the relationship.
Communicating with influencers during an influencer marketing campaign is extremely time-consuming: many brands fail to do it properly, which can seriously impact the success of an influencer marketing campaign. There are many details that need to be coordinated, e.g. content approvals, deadlines, deliverables, and strategy revisions. You cannot afford to do it in a fragmented way.
The easier you can manage those aspects, or have a dedicated tool to help you do so, the better the influencer engagement will be.
So, the best way to have an efficient communication and collaboration, actually, would be to have a cohesive team to which your partners belong, constantly connected through push notifications, tasks, and direct messages, all within the same app or software.
It would avoid you switching between several instant messaging apps or platforms to manage your multiple teams and influencers, or sending them fragmented screenshots and messages.
5. Brand's Analytics VS Influencer's Insights
You need to keep a record of what your influencers do for your brand. This aspect may be one of the most complex ones, so you have to cope with a further opposite pair:
If you don't give attention to the analytics aspect, you will end up having simply a vague idea about your influencers' content results on their social media channels.
Alternatively, you can use an analytics tracking tool to highlight which posts perform well, and which do not. This can be very useful for determining future marketing patterns – it gives you a good idea of which influencers you should continue to work with and which campaigns could benefit from an increase in budget or content.
You should have the access to each involved social media channels and all the data your influencer can provide, including reach and engagement. Therefore, your social media management tool should provide you with access to those data. If you run different campaigns, the data has to be reported within those campaigns.
Still wondering which solution would allow you to effectively manage those Opposite Pairs within your Influencer Marketing campaigns?
Just SCHEDULE A DEMO with LEVURO, and we'll show you our professional, cost-effective, and mobile-friendly solution to achieve your campaign goals: LEVURO ENGAGE.
It will become your perfect assistant when it comes to manage creative team workflow, content storytelling and campaigning, video editing, analytics, and influencer marketing.