Cross-media Content Marketing
5 Challenges and Solutions for Brands, Sports, and TV Industries
Cross-media content marketing is taking place in each big brand and industry out there, as well as startups and small companies.
Brands, Sports industry, and Broadcasting companies are struggling to face out those five challenges:
The decline of their campaigns organic reach;
Their campaigns right channeling;
The adoption of a valuable and time-consuming social media tool;
Managing data and insights;
Making their cross-media strategy reflect their brand identity.
Keep reading and we are going to figure out how to address those problems with five meaningful solutions:
Making video a priority;
Valuable time-management solutions and tool;
Choose the right social media tool;
Measuring your social media data altogether in a single tool;
Put the audience's needs first.
An ideal cross-media marketing tool solution to achieve those goals is LEVURO ENGAGE,
our professional solution that allows achieving campaign goals, no matter if it's to increase awareness, engagement or conversion.
Keep on reading, and see how you may better manage and organize your cross-media campaigns!
About Cross-media Content Marketing
Cross-media marketing campaigns involve adopting a variety of media platforms to build the audience's awareness of a product and/or service.
Using a well-chosen variety of media puts the campaign's message in front of more consumers/audiences more often: that's why cross-marketers use a combination of mobile apps, paid search engine returns, ads, videos, content marketing, social media, and so forth.
Therefore, the main aim of a multichannel marketing campaign isn't to get a message out to as many channels as you can, but it's to spread it through the most effective and efficient channels. Never forget that cross-media is a communication tool, which requires also storytelling and creative skills that are another challenging part of the game.
Cross-media communications are structured to move the audiences across different media using strong calls-to-action, making each touch point build on the experience and create a narrative bridge between them and the next platforms.
5 Main Challenges facing out when designing a Cross-media Content Strategy
1. DECLINE OF THE CAMPAIGNS ORGANIC REACH
The current social media algorithm formulas are becoming frustrating for social media marketers: over the last couple of years, campaigns reach dropped significantly, even in spite of increasing audiences.
Each social media platform is reacting with different new features and formulas, e.g. videos or stories.
Yet, keeping up with all those changes is quite impossible for marketers who don't benefit of a helpful social media management tool.
2. RIGHT CHANNELING
The main aim of the so-called right-channeling is to reach the right audience/customer through the right platform at the right moment.
Doing so would allow marketers to build a marketing campaign with a strong message around several channels.
Nevertheless, multichannel strategies are really challenging because each medium has its own format and rules that set how the different content should fit.
Having each of the channels work together in synergy creates a cohesive brand identity and a stronger awareness of the audience's needs.
3. ADOPTION OF THE RIGHT SOCIAL MEDIA MANAGEMENT TOOL
Mapping out a content calendar gives everyone centralized access, lets a team collaborate, and then allows to get more work done independently by each team member.
This is why your social media marketing strategy greatly depends on which social media management tool you rely on. For social media managers, the main challenge is often to figure out which tool has the functions they need to achieve their goals, e.g. social media dashboard, monitoring, analytics, scheduling, and so forth.
Another big issue is collecting data from social media audiences' habits.
The challenges of data management that marketers usually deal with are in the amount of data available, as well as the disjunction of those data between the different platforms involved.
Therefore, one problem encountered in some cross-media campaigns is that different strategies, although executed in combination, are measured separately: this does not provide a comprehensive overview of a campaign and its results.
5. CONTENT STRATEGY THAT REFLECTS THE BRAND IDENTITY
Marketing should reflect a sort of brand picture, and to do so you need to build a conversation with your audience/customers making them interact with each other and with yourself.
It's all about relationship building, in order to create a powerful message and a collaborative experience, e.g. through user-generated content (UGC), running contests, giveaways, polls.
Yet, managing those engagement formats can be challenging, due to the need to coordinate and organize complex campaigns' storylines and strategies through different social media platforms, as well as collecting their data and results.
5 Main Solutions to design a coherent Cross-media Content Strategy
1. MAKE VIDEO A PRIORITY
The main solution to fight the decline of your campaign's organic reach is the trend that – over the last couple of years – has been increased significantly: viral videos.
Video is becoming a priority for both brands, sports industry, and TV: a short or longer video will keep eyes on a channel, and live videos o er an up-to-date view of the brand/event/service.
Instagram is particularly valuable here: with its Stories, GIFs, boomerang short videos, live ones, and the new IGTV channels, it is making a real impact on the social media environment, positioning its features as the main engaging and promoting ones among any other platform.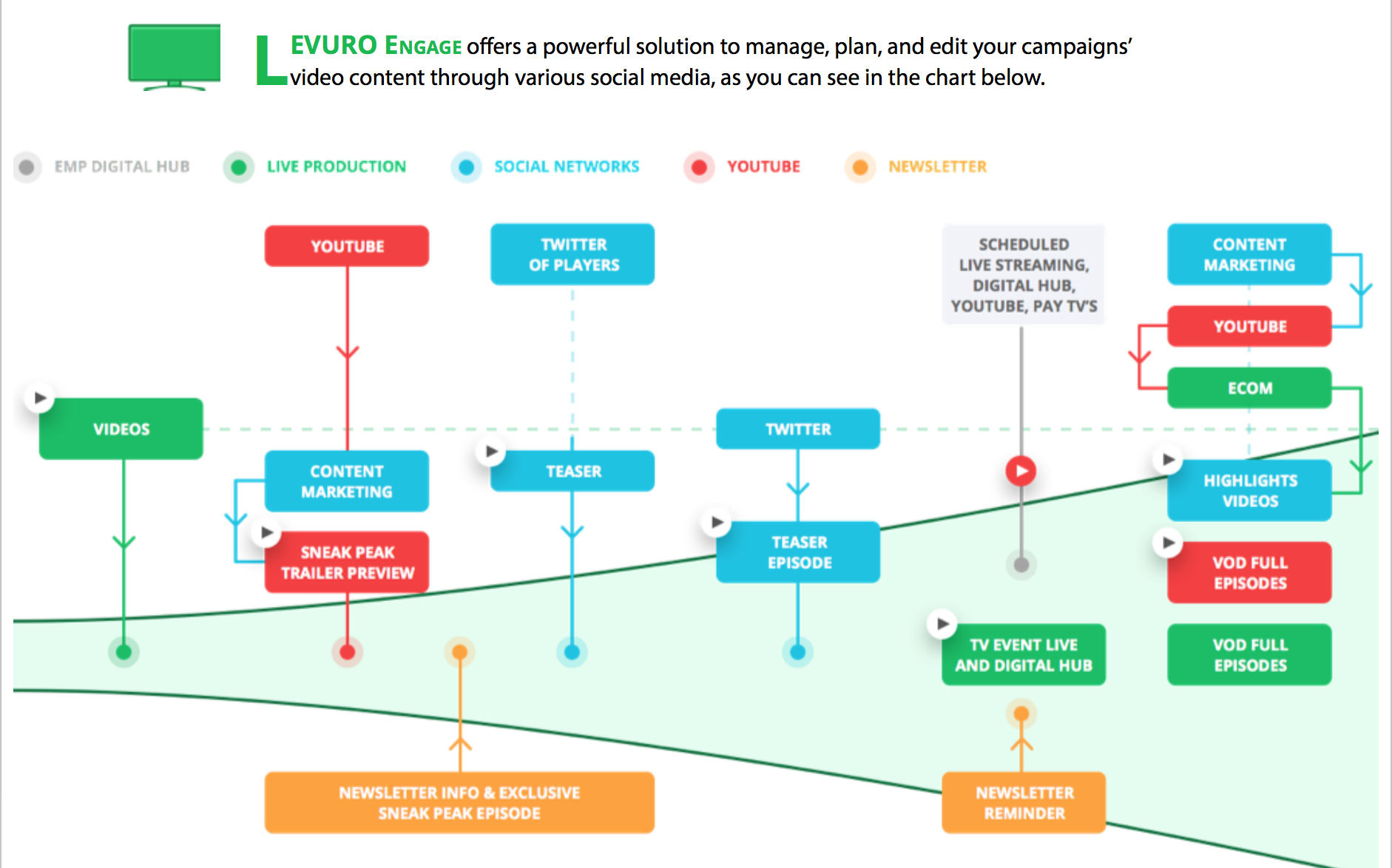 2. VALUABLE ORGANIZATION AND TIME-MANAGEMENT
In order to gain a straightforward right-channeling, you must have each of your platforms work together in synergy, creating a cohesive brand impression in response to your audience's needs.
Creating an effective cross-channel strategy involves an in-depth knowledge of the characteristics
and differences of each channel, as well as good time-management skills.
Yet, that's not enough.
People, not platforms: when it comes to select and plan your social channel mix, focus your efforts on understanding your audience's motivations, not just the user numbers.
Remember that what those people want, and the reasons why they use each platform, are far more important than the technological features of the platforms themselves.
The best solution is choosing the best social media assistant ever: a content marketing management/editing tool.
In fact, it would allow you to solve your main social media challenges, e.g. the lack of time when it comes to differentiate, schedule, and edit your content.
This is true for both brands (that need to figure out the best way to differentiate they branded content), sports (in particular when managers need to edit videos), and TVs (when there is the necessity to manage different accounts within the same strategy).
3. CHOOSE A TIME-EFFICIENT SOCIAL MEDIA TOOL
Addressing a content marketing tool to manage your social media strategy is the best way to have a time-efficient and organized assistant for the whole team you work with.
In the specific, such a storytelling-oriented tool would allow your company's digital creators and copywriters to manage a great amount of work really easily, making it possible to organize their storytelling content in every workplace and/or moment of the day, through various devices.
Therefore, be sure to choose a mobile-friendly management tool, which allows you to easily manage your mobile strategies and content.
In particular, if your branding strategy involves maintaining a non-stop posting schedule or several daily contents through many social platforms, such a tool might give you the opportunity to collaboratively schedule, plan, and edit your posts within a single smart solution.
In the specific, Sports and TVs managers can produce hyper-timely content, creating multiple pieces of media from one piece of content, e.g. the video of a match/episode or an interview can be broken up into shorter contents that are better for viewing on different social media and with different ratios.
4. MEASURE YOUR STRATEGIES ALTOGETHER IN A SINGLE TOOL
When data management is done properly, it can suggest new strategies, conversations about your product, market trends, the best influencers, and audience's demographics/psychographics.
Unfortunately, most marketers lack the access to the right information or are paying for incomplete and irrelevant metrics that don't provide the underlying data or are not accurate and understandable.
This is why, in order to achieve a complete view of a campaign and its results, marketers need to rely on a solution that allows them to measure and interpret their social campaigns properly, looking at all their audiences, social accounts, and campaigns in aggregate.
This saves hours over the alternative of managing social media content strategies.
5. PUT THE AUDIENCE'S NEEDS FIRST
One way to benefit from your social conversations is to turn those interactions into user-generated-content (UGC): it can be doable through polls, contests, lives, or any direct form of interaction with your audience that allows your brand/media fans to share their ideas, making them feel active, valued, and more personally connected to your company.
Marketing should approach any content marketing campaign by putting the audience's needs first; it should provide value, and should be like a service.
You need to build a conversation with your audience and first speak to their interest or needs and then, after multiple interactions, consider a solution.
It's about relationship building, creating a consistent message and experience.
To organize those forms of social material, you need the help of a tool that allows you to edit and personalize your content, thought video cutting, pics' thumbnails, logos, filters, in order to make your content strategy reflect your brand identity.
Interested in further reading about each of the challenges and solutions related to Brands, Sports, and TV?
You can find more in our whitepaper here: